Menu


Photo Gallery

Free Patterns

Block of the month
Thank you to our supporters.
To view their complete advertising information
Click here.


The Flying Geese Quilters Guild
is an organization with general meetings that offer quilt related programs from our talented membership and other locally recognized fiber artists, as well as nationally and internationally recognized guest speakers.

The Flying Geese Quilters Guild meetings are held on the second Monday of the month at 6:30 pm in Irvine, CA.
The Meetings are held at:

Rancho San Joaquin Middle School
4861 Michelson Dr.
Irvine, CA 92612
Directions:
click here
Program Monday, December 11, 2017
Special Holiday Program
You won't want to miss the December meeting. This month we will be entertained by a special holiday guest.

December will also bring our festive holiday celebration.

Please bring your holiday quilts or gifts that you have made or received for show and tell.
Program Monday, January 8, 2018
Tina Curran
Lecture: My Excellent Adventures As A Quilter
Don't miss the first program of the new year! Tina's trunk show features about three dozen of the quilts she has created over the last twenty-plus years. Tina's goal is to encourage other quilters by showing how her skills evolved and how she too was once a beginner.


Tina Curran is a local quilt artist who was inspired by observing a friend's quilting. As a life-long sewer she took to quilting quickly. Tina finds great joy in the infinite options that art quilts provide - as many as a painter working on canvas. She also enjoys the deep American roots of traditional quilting and the unlimited possibilities of today's art quilts. Combining the elements of both, she often uses contemporary fabrics in century-old quilt patterns.
Tina's art quilts have been on display in many art shows, including Road to California, International Quilt Festival and the American Quilter's Society in Paducah. Her work has appeared in national quilt magazines such as Quilters' Newsletter and Quiltmaker over 20 times. In addition to creating new designs and teaching she has an Etsy shop online, sells her patterns on Craftsy and creates quilts on commission.
Workshop in January Whimsical Garden; Sunday 1-7-18

Quilt Calendar
There are fun quilting events coming up in December and January.
For example; quilt exhibits and quilt shows, boutiques, and entertainment.
To view more quilting events go to:
Calendar of Quilting Events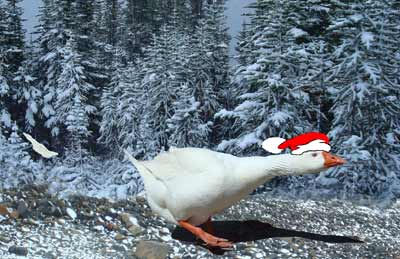 Please shop at our supporters for your holiday needs.
The Flying Geese Quilters Guild general membership meetings, offer quilt related programs from an extraordinarily talented membership and other locally recognized fiber artists, as well as nationally and internationally recognized guest speakers. Our speakers are quilters, quilt designers, clothing designers, doll makers, and textile designers – in other words, experts who impact our love of quilting. Without fail each month our guild members present a spectacular Show and Tell and a hint of the quilt show we present every other year. Before the meeting and during break there is time to browse our extensive lending library, socialize, and enter opportunity drawings for small wall hangings and door prizes. Between meetings we offer a variety of activities, such as workshops, philanthropy sewing days, and small friendship quilt group meetings.
The Flying Geese Quilters Guild was founded in 1985 by a group of about 30 quilters. In the past 29 years the guild has grown to approximately 300 members. The quilters guild was organized to promote and educate its members and the public in the techniques and methods of creative quilting and fiber arts, to preserve the heritage of quilt making, and to promote quilt related activities. Regular meetings usually feature nationally known speakers. Members can also attend some speaker's workshops for a small fee. Other benefits of membership include opportunities to join friendship groups, check books out from the Guild's extensive library, and participate in quilt related philanthropic and community education projects. Other activities include a biennial quilt show, biennial quilt auction, and quilt retreats.